Tangy Kiwi + Avocado Puree
Tangy Kiwi + Avocado Puree
A quick + easy, no-cook purée that you can rustle up in minutes!
Ingredients
Method
Peel the kiwi + chop the flesh. Put the flesh in a bowl with theavocado. Whiz using a hand blender until completely smooth.
Pass through a sieve to remove any remaining kiwi pips, if you like (although the pips are tiny + will be fine for babies over 7 months of age). Serve immediately.
Yummy for babies
For older ones... If you want to use up the whole of the avocado, double the recipe, then take out what your baby needs. In the remainder add a squeeze of lemon juice + a splosh of olive oil, whiz it up + drizzle it over a green salad – delicious!
Handy tips
This is a super easy on the go option as avo + kiwi come with their own h+y packaging - their skin! Just peel + mash for a tasty meal, when out + about. You could add a dollop of nut butter for extra nutrients too.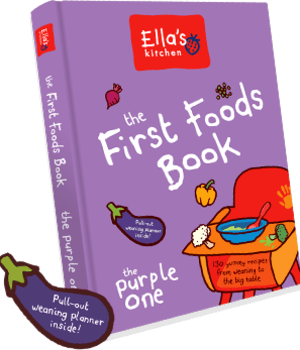 I'm from The First Foods Book
We think weaning should be full of fun scrummy tastes, and lots of big smiles, so we've created the First Foods Book - the Purple One!