Jax Dale
Quality Manager / Keeps Stuff Safe + Sensory Scientist

what do you do at Ella's Kitchen?
My job is about making sure all the foods we make for little ones are not only yummy but safe and of the best quality. This means working closely with our suppliers and the rest of the Making Stuff Safe (Technical/Quality) team to consistently meet the high standards we have set for our products.
I am the Ella's Kitchen Sensory Scientist, which means I help create and maintain yummy products which will excite all of your little one's senses.
a little background please, what makes you the best person for the job?
I have a BSC in Food Science and a Masters in Nutrition & Food Management. I began my career in Quality over 25 years ago (gosh I'm old! 😊) in the chilled food sector. I then went on to work for a Food consultancy business helping their clients in the areas of quality and food safety training.
I joined Ella's Kitchen in 2008, as the fourth employee, to develop and create quality systems for this relatively new business. My role has changed and evolved as Ella's Kitchen has over the last twelve years but I have always remained in the Quality department.
Over the last few years, I have been fortunate to be given the opportunity to develop my interest in Sensory by going on various courses. This led me to complete a Post Graduate Certificate in Sensory Science and I will graduate as a Sensory Scientist at the end of 2021 from The University of Nottingham.
what makes you proud to work at Ella's Kitchen + how does your job help little ones learn to love food?
I am very proud to be a part of the Ella's Kitchen team because we always put little ones first, in everything we do.
I am particularly proud of the great quality products we develop and produce, always searching for the best ingredients, packaging and manufacturers. My role involves following processes and procedures which support the manufacture of not only good quality products but also safe products, which make our consumers and their families happy.
my top 3 tips for parents + carers of little ones
1
Let you little ones explore their food, use their senses and have fun, don't worry about the mess!
2
Be brave and try lots of new flavours and textures with your little ones. Try not to give up if they don't like/want something one day, tomorrow is a new day!
3
Relax and enjoy the weaning journey. I lost many sleepless nights worrying about weaning my second child, who was very fussy. The worrying didn't help either of us and once I began to relax, things started to improve.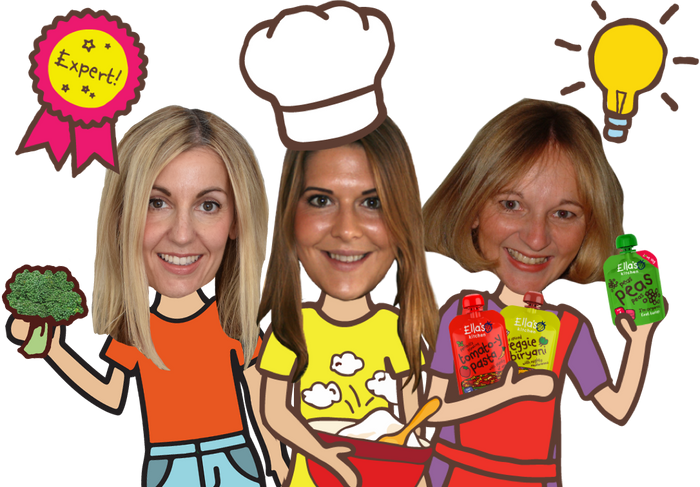 we work reeeally closely with lots of experts so that our yummy foods are the best for tiny tummies!