the banana that became brave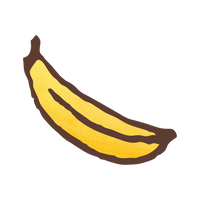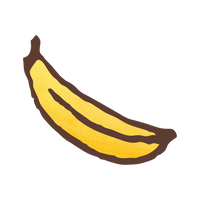 Say hello to The Banana That Became Brave
Our banana themed interactive sensory storybook is designed to help you + your little ones love fruit and veggies through the power of play!
Play along to the virtual sensory story
what you'll need!
For this story, you'll need two bananas: one whole banana, one peeled and split into banana sticks + keep hold of the peel!
Handy hack: To make your banana sticks, peel your banana and slide your thumb lengthways down the centre. Pull the pieces apart from the middle so that you have 3 equal fingers
The Banana That Became Brave
On a faraway island, in the shade of some palm trees,
Sat two Pirate Bananas preparing to sail the seven seas,
There was Fearsome Captain Banana-cle, with a big bushy beard,

and First Mate, Little B, who's been volunteered,
Little B was a bit nervous, not feeling too brave.
They'd never seen the sea before, not even a wave!
"Stick with me", roared the Captain, with a hearty chuckle.
"We'll make a pirate of you yet, with a swagger and swashbuckle." (Tip: Swish the banana like a pirate's cutlass)
"First grab a flute, and play a pirate tune" (Tip: Hold the banana like it's a flute and play a pirate song)
"Pull up the anchor, let out the sails and steer towards the moon" (Tip: Hold the banana like it's a crescent moon in the sky)
"We'll keep watch for sharks and jagged rocks, for our ship could break, (Tip: Hold the banana like a ship, rocking in the waves)
"We may even spot some dolphins, dancing in our wake" (Tip: Use your 3 banana sticks like 3 dolphins, jumping in + out of the water together)
"From giant squid to jellyfish, these seas are filled with wonder," (Tip: Hold the banana peel in the air like it's a jellyfish, bobbing in the water)
"Even buried treasure, ready for us to plunder."
"And when we drop anchor, after a dashing, daring day,"
"You'll feel proud you were brave and lived the pirate way."
"I can't wait!" said Little B. "Just one question while we get ready…"
"If I promise to be brave, can I bring my teddy?"
the power of sensory food play
Discover the power of sensory food play + why we're encouraging all little ones to play with their food!