Big Kids frozen food launch
- 7th June 2018 -
Ella's Kitchen, the UK's much-loved, leading baby food brand has grown up!
In BIG news for families in the UK and Ireland and their BIG kids who loved Ella's Kitchen as little ones, the brand has launched its first ever frozen food range which is bursting with premium, healthy and homemade Ella's Kitchen tasty goodness for kids aged from weaning to 3 years.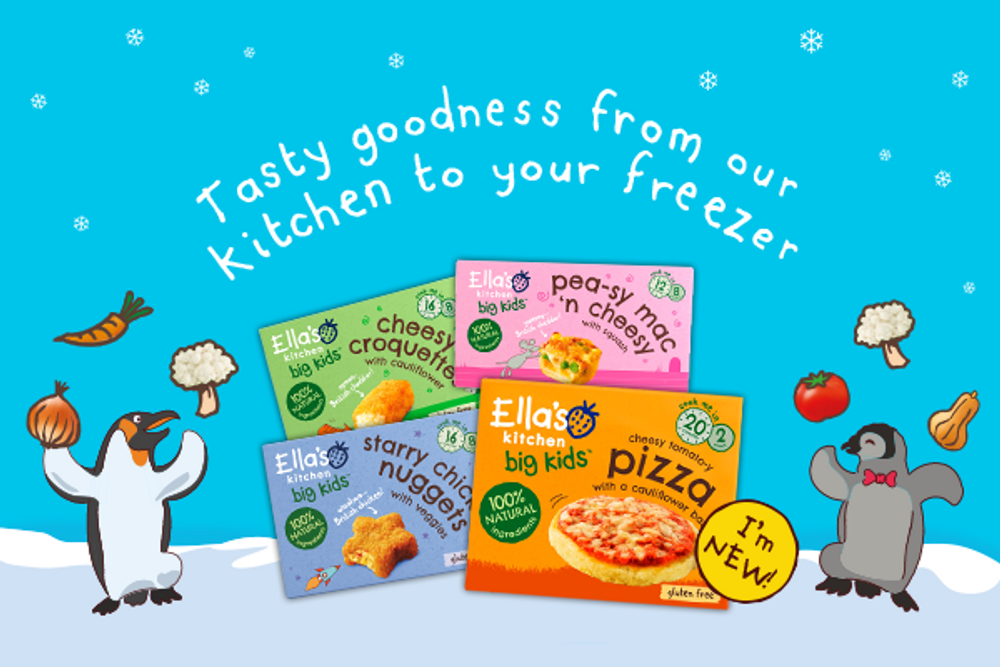 Ella's Kitchen BIG KIDS is the first frozen food range made especially for kids, with the same care as you would at home. Sure to star on any plate, the range is packed with vegetables and contains no added sugar, artificial colours, flavours or preservatives, and offers a number of gluten free options. Each recipe is made using 100% natural, sustainably sourced ingredients, making it super healthy AND tasty for kids.

Get your skates on
Nutritious and delicious, the range is guaranteed to have kids and parents alike getting their skates on to the frozen food aisle. Best of all, the scrumptious range of goodies has something for all occasions. It's perfect for healthy, quick and easy mealtimes, snack time munchies in kids' lunch boxes or when weaning.
Cook me
Perfect for simply popping in the oven for a mealtime addition:
Chicken + Veggie Nuggets: made with chicken breast, boosted with 4 types of veggies and wrapped up in crunchy gluten free breadcrumbs
Cheesy Croquettes: blended with Cauliflower for a tasty twist, all wrapped up in crunchy, gluten free breadcrumbs, a delicious vegetarian option
Cod Fishies: made with sustainably sourced cod and mixed with peas, sweetcorn and fluffy mash, all wrapped up in crunchy gluten free breadcrumbs