Cosy Cottage Pie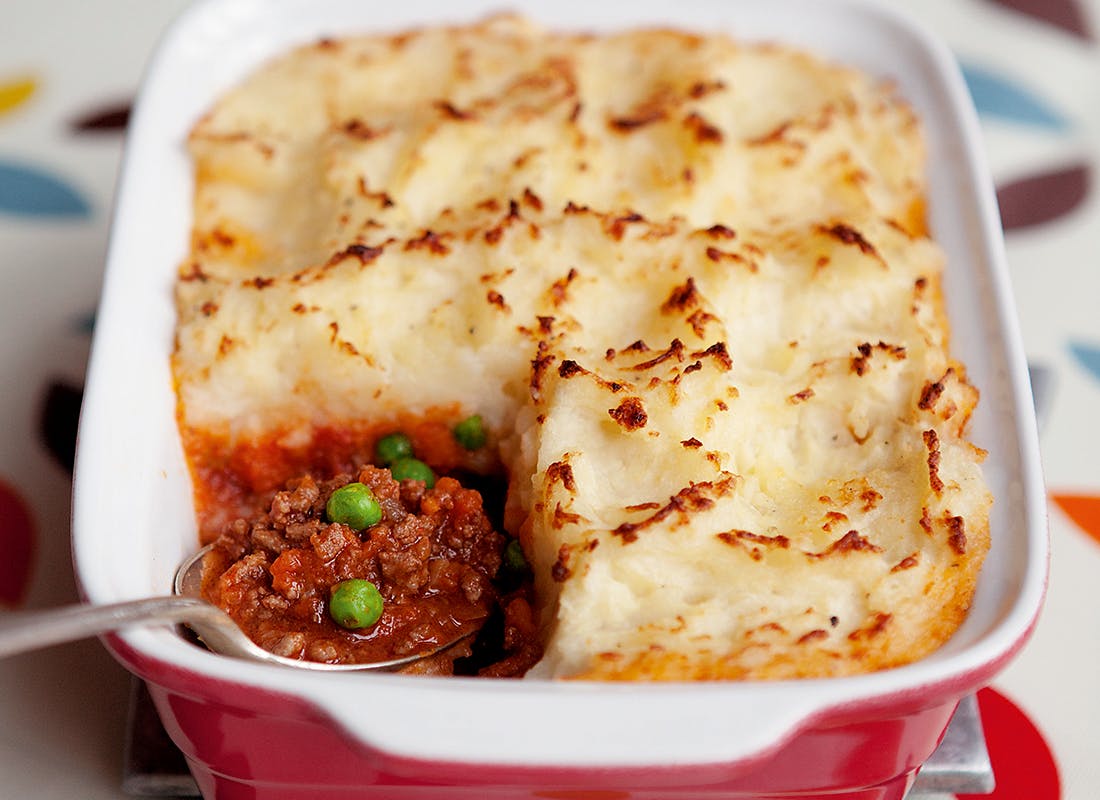 Cosy Cottage Pie
Homely + hearty – even if you don't live in a cottage – this is always a favourite with little + big ones alike

Ingredients
Method
600 g/1 lb 5 oz potatoes, diced
60 ml/2 fl oz whole milk
200 g/7 oz sweet potato, diced
1 carrot, diced
1 onion, chopped
500 g/1 lb 2 oz lean minced beef
½ teaspoon ground cinnamon
250 ml/9 fl oz vegetable stock
2 tomatoes, chopped
100 g/3½ oz frozen peas, defrosted
Ingredients
Method
Preheat the oven to 200°C/400°F/Gas Mark 6.
Cook the potatoes in boiling water for 10–15 minutes or until tender. Drain them + return them to the saucepan. Pour in the milk, then mash the potatoes well.
While the potatoes are cooking, in another saucepan cook the sweet potato + carrot in boiling water for 10 minutes. Drain them + coarsely mash.
Fry the onion, minced beef + cinnamon in a large saucepan for 5 minutes until the mince is completely brown. Add the stock, the mashed sweet potato + carrot mixture + the tomatoes to the mince + cook for 5 minutes. Add the peas, give it a stir + transfer it all to an ovenproof serving dish. Top with the mashed potato + bake in the oven for 30 minutes until golden.
None
Swap this for that
To save on some chopping time, replace the sweet potato + carrots with 1 x 120 g/4¼ oz pouch of Ella's Kitchen Squash, Sweet Potatoes + Parsnips + reduce the amount of stock to 200 ml/7 fl oz.
Handy tips
A sprinkle of grated cheese on top of the mash makes a delicious topping!
I'm from The Cook Book
The Cook Book - the Red One is packed with yummy recipes to inspire big + little cooks.