Sounds scrummy (engaging the senses)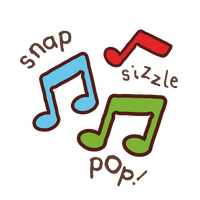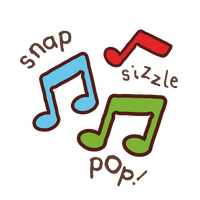 snap, sizzle, bubble, crunch!
Listen to foodie sounds as you cook + enjoy eating your meal together
Our research has shown us that little ones who experience veggies and fruit using all their senses are more likely to eat + try those foods when mealtimes come around. Remember, the more times your baby tries a new food, the more likely they are to learn to accept it and grow-up to become good little eaters… so keep trying!
We've come up with lots of ideas, tips + sensorial games that you can try together. Let's play!
Foods make all sorts of sounds: carrots snap + onions sizzle! Encourage your little ones to listen to foodie sounds as you cook + enjoy eating your meal together, making lots of yummmy sounds!
Pssst! Please be suuuper careful with hot bubbling foods around your little ones and remember that this activity is about listening not eating as some of these foods aren't safe for babies to munch on!
Super shaker fun activity
Get your little one giggling + grooving with their own foodie musical instrument!
Pop some uncooked rice in a clean plastic container or jar and secure the lid tightly. While you're rustling up a tasty meal, simply give the shaker to your little one to make some music for you to cook along and dance too!
Lentil, rice and water also make good shaker-fillers too! You could even make a range of shakers with different grains to hear the sounds they make!
Pssst! Please check the container is safe for little ones and the lid is firmly on, as we don't want the rice popping out everywhere!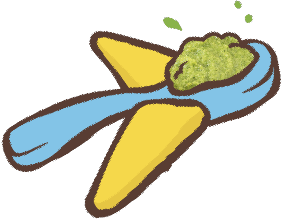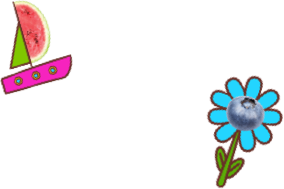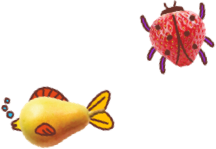 more helpful stuff to explore
Engaging the senses
Expert nutritionist Claire Baseley talks to Two Dads, Rich + Lew, about why engaging your little one's senses is super important for making weaning fun + developing good little eaters