Cheesy Feet Pizzas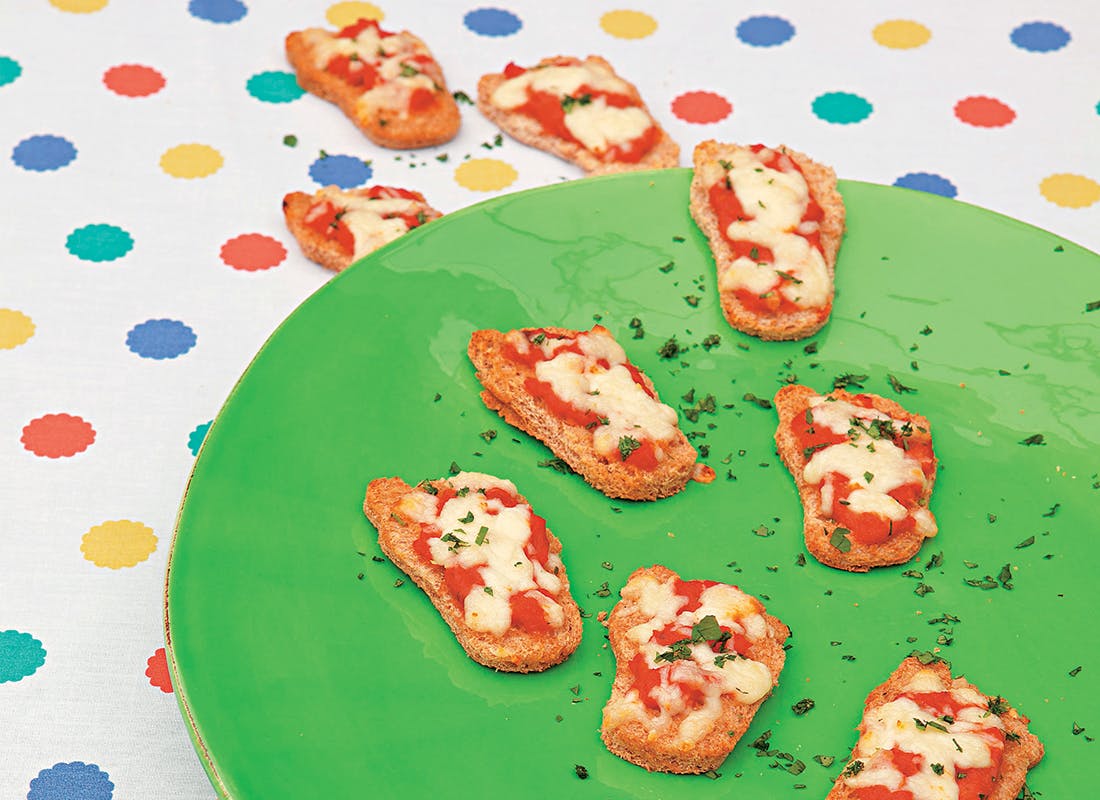 Cheesy Feet Pizzas
These party-size mini pizzas will go down a treat! Make sure your little one gobbles them up before they run away!
Ingredients
Method
400 g/14 oz can chopped tomatoes
½ teaspoon dried oregano
2 tablespoons tomato ketchup or use our Clever Tomato Sauce recipe!
12 slices of wholemeal or malted grain bread
40 g/1½ oz unsalted butter, melted
75 g/2½ oz mozzarella cheese, grated
Chopped parsley, to serve
Ingredients
Method
Preheat the oven to 200°C/400°F/Gas Mark 6.
Tip the tomatoes into a saucepan + stir in the oregano. (Use a large saucepan as the tomatoes might splutter as they cook.) Bring the tomato mixture to the boil + cook it for 8–10 minutes until it is very thick + pulpy. Remove from the heat + stir in the ketchup or Clever Tomato Sauce.
Using a foot-shaped cookie cutter measuring about 8 cm/3¼ inches in length, cut out about 24 shapes from the bread slices. Brush the feet very lightly with the melted butter + place them on a large baking sheet.
Place a little of the tomato sauce in the centre of each shape, then top each with a little grated mozzarella. Bake the pizzas in the oven for 10 minutes until the bread is turning golden around the edges. Transfer the pizzas to a board or plate + serve sprinkled with chopped parsley.
Fun For Little Ones
Using the cutter to create the pizza shapes is definitely a job for little helpers. Who can peep through the hole that's left?
Handy Tip
You can add all sorts of toppings to personalise your pizzas. Veg it up with coloured peppers, mushrooms and grated courgette!
I'm from The Big Baking Book
The Big Baking Book - the Yellow One is packed with over 100 healthier savoury + sweet baking recipes, all taste tested and given the thumbs up by kids.