Roasty Red Pesto Chicken
Roasty Red Pesto Chicken
The juiciness of roast chicken + punchy pesto tingles tiny taste buds. A great recipe for little teeth learning to chew
Ingredients
Method
1 x small potato (about 115 g/ 4 oz), peeled + thinly sliced into rounds
5 cm/2 inch piece of leek, white only, very thinly sliced
1 x tomato, sliced into rounds ½ teaspoon dried oregano
1 x teaspoon olive oil
1 x teaspoon red pesto (see box, below)
1 x skinless chicken breast (about 125 g/4½ oz)
Baby's usual milk (optional)
Ingredients
Method
Preheat the oven to 200°C/400°F/Gas Mark 6. Place a large sheet of aluminium foil in a baking dish + arrange the potato in the middle in an even layer. Top with the leek + tomato, then sprinkle over the oregano + oil. Spoon the pesto over the chicken, then place on top of the tomato.
Gather up the edges of the foil + seal to make a parcel. Bake for 35–40 minutes until the potato is tender + the chicken is cooked through. Carefully open the parcel, remove the chicken + chop into four.
Whiz the remaining contents of the parcel with the chicken in a food processor, or using a h+ blender, until finely chopped, adding a little milk if necessary.
Swap this for that
Swap the chicken for salmon for a tasty fishy dish
Yummy for babies
Chop up all the ingredients finely instead of blending if your little one is 10months+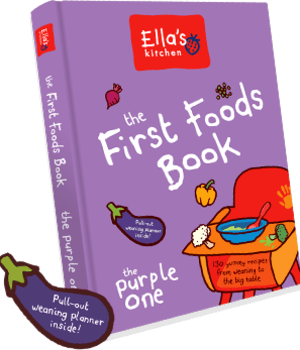 I'm from The First Foods Book
We think weaning should be full of fun scrummy tastes, and lots of big smiles, so we've created the First Foods Book - the Purple One!