Spiced Brekkie Hash-Up
Spiced Brekkie Hash-Up
A hash is a brilliant way to use up leftover potatoes + veggies. We love it for breakfast topped with an egg, + with a sprinkling of curry powder to make it tingle on the tongue!

Ingredients
Method
3 x tablespoons sunflower oil, plus extra for cooking eggs
500 g/1 lb 2 oz cooked potatoes, cubed
1 x onion, sliced
250 g/9 oz cooked sprouts, halved or quartered, or white cabbage, finely shredded
2 x garlic cloves, chopped
140 g/5 oz halloumi cheese, cubed
1 x heaped teaspoon mild curry powder
1 x teaspoon cumin seeds (optional)
4 x eggs (optional)
Ingredients
Method
Heat the oil in a large frying pan over a medium heat. Add the potatoes + onion + cook for 10 minutes, stirring often, until the onion has softened + the potatoes are light golden.
Add the sprouts or cabbage, garlic, halloumi, curry powder + cumin, if using, stir until combined, then cook for another 5 minutes, turning regularly, until everything is heated through.
If serving topped with a fried egg, put the hash in the oven (set to a low temperature) to keep warm, covering it with a plate to stop it drying out. Heat enough oil to cover the base of the frying pan + fry the eggs as you like them, then serve on top of the hash.
Fun For Little Ones
Halloumi has a wonderful bouncy feel + is the perfect texture for little fingers to explore
Yummy For Babies
Swap the fried eggs for scrambled if your little one is 10 months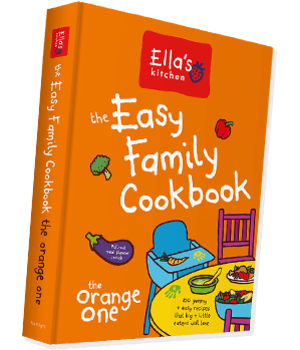 I'm from The Easy Family Cookbook
Here at Ella's we believe that the more little ones are involved in preparing and cooking food the more likely to grow up enjoying yummy healthy food! So we've created 4 deeelicous cook books full of handy hints and tonnes of scrummy recipes to help get little ones and their families excited about cooking + eating together